About Oibel1
Meet Sam, the artist behind the masks
---
Outside the sun is shining, he is sitting in a large empty room with a generous smile on his face and a cap on his head. On his shoulder, a tattoo says "Spread love bitchez". His name is Sam Oibel, an artist born and raised in Zurich from a Ugandan mother and a Swiss father.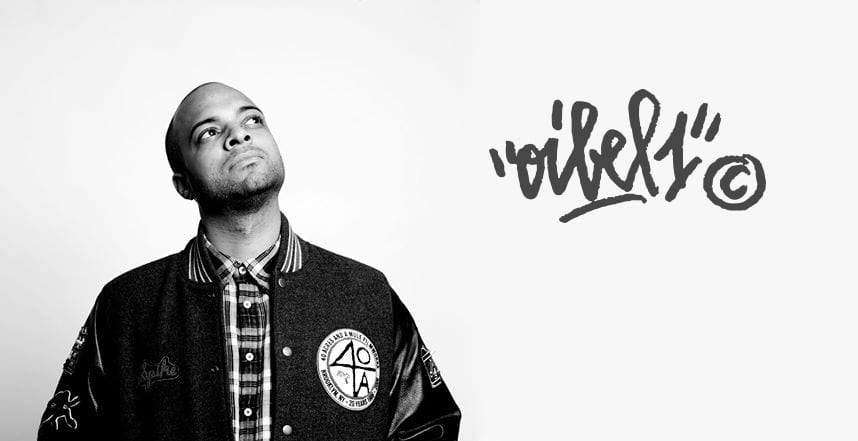 Sam's relation with art started at an early age. His father was an animation filmmaker and his mother was interested in African Art and made patchworks. "My father was animation filmmaker and designer. I was surrounded by pens and paper during my childhood. We were always visiting his atelier. (…) My mum is an arty person as well. So I grew up with all of that stuff and developed into graffiti", he says.
During his teenager years, he joined the underground graffiti. But, his dream was to become rapper. Eventually, he made four albums, two solos and two with friends. The dream came true and painting was something he did on the side. Now, it is been four years that he has decided to focus on painting and graffiti. "I just realized that this is the only thing I want to do or, at least, picture myself doing it forever without being bored about it.", he says. For him, it is a way to always push the limits.
Currently, Sam's paintings evolve around "the Fes", a face, "the Oibot", a robot, and the "Fly gal", a girl. Some paintings use very powerful colors; others use black lines to sharpen the shapes. All the canvas and graffiti's are very graphic and energetic. Fed up of repeating his name with graffiti, Sam wanted to explore more the shapes and the way letters flow. Still, he cannot explain why his paintings evolve into faces or girls for instance.
"I wanted to keep the shape. And of course I like abstract art like cubism. I don't know how my paintings turn into faces. I just break into forms so when you get close to it is just squares and circles colored surfaces", he tells. The robots represent the people living nowadays in our society, including Sam himself. "Everything is going so fast and you follow this daily pattern. So, you stop thinking about what you are doing. So for me it is the robot way", he explains. Even though, as a child, he had the chance to meet Keith Haring, Sam says that he usually takes his inspiration from his environment. It is hard for him to quote specific artists. "I am inspired by so many artists as well as life, things that happened to me or my friends." But, one thing he knows, he likes simple "stuff", probably an aspect taken from graffiti. One thing is sure; he is not into realistic painting because he got no patience for that. "I like the fast and simple way", he tells.
As Sam can be surprised by his own paintings, he also enjoys people's reactions. "I wonder if it was my self-conscious that wanted to do what this person is saying and it was me that was not realizing it", he says. Usually, he goes straight into the painting without a sketch unless he has time limit. Even though sometimes he imagined a face or a robot or something else, it never really ends up the way he thought it would. In addition, he explains that he does not want to give himself the opportunity to erase it and do it better. He may get trapped and never be able to finish his paintings. "I prefer go and just do it. Make the best of what you have. In real life you can't rewind. You make the move and you can't take it back". So, he just lets go his thoughts and movements on the canvas. Another tattoo on his arm expresses clearly his vision. It represents the iconic three eyes of Keith Haring. This symbol came from a proportion mistake. A third eye was added in the middle to make the drawing prettier. "I try to teach myself to make the best of what I have. That is why I chose this tattoo".
Like many other artists self-taught, Sam came from the underground graffiti scene into the gallery world. For him, it is just a normal process, especially if you want to live of your art. "It depends on where you want to go. Some guys want to stay underground. They will have their job on the side. And keep going hard core", he says. For him, the biggest difference between the streets and the galleries lays on the choice to see. In the streets, people do not have the choice to see it or not. In that sense, it is like a commercial. In galleries, people come with an interest. In the street, people like it or not, but they have no choice. Actually, he misses going out in the streets like back in the days. He is thinking about creating an alter-ego, so nobody would recognize his signature. "Should I do it or not? In Switzerland, you can make a lot of noise", he says laughing.
He remembers a time he had to hide a bush. A cab was pulling up next to the wall he was painting. A men stepped out. As soon as the cab left, the men starts to pee in the bush. I stood up and both shouted and run away. "It is quite surprising scary but these thing do not happen in the studio", he underlines. These days in the studio, he likes to have friends around and have a little chat while painting. Sometimes, he takes time alone, but he sees himself as a more social person. A characteristic he probably kept from singing on stage and interacting with his audience. He wants to share what he feels and wants to touch people. He always tries to put as much positivity as he can in his work even though his illustrative work became more political. "Spread love bitchez" is simply his mantra. Three simple words to inspire positivity.
Text by Vanessa Estevez